---
Hi, I am Adrian Davis and this is my personal website.
I'm a Philadelphia, Pa based freelance interactive media designer,
search engine optimization specialist and developer.
I specialize in crisp, clean and clear design.
Click Here to view my portfolio!
---
This is a
short list
of what I can do for you.
If you have any questions, please give me a call or send an
email
.
Marketing
Niche Marketing
Search Engine Marketing
Social Media Marketing
Email Marketing
Guerilla Marketing
Traditional Marketing
Public Relations
Print
Logo Design
Business Card Design
Flyer⁄Postcard Design
Brochure Design
T-Shirt⁄Uniform Design
Illustration
Product Photography
Web
Web Design and Development
HTML Email Design
Search Engine Optimization
Website Optimization
UX⁄UI Design
Information Architecture
Usabiltiy
Back To Top ↑
---
Back To Top ↑
---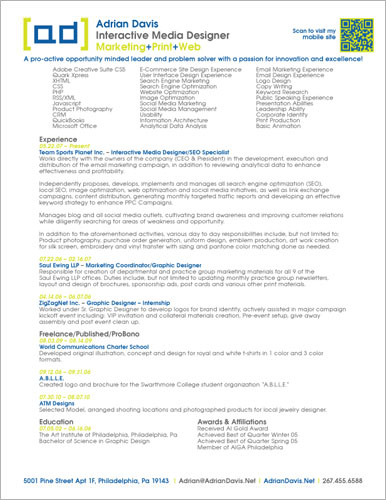 Back To Top ↑
---
I am Adrian Davis, an Interactive Media Designer currently at Team Sports Planet, Inc.
I wear many hats, balancing the day to day activites with the over all goal of continuous improvement, pushing the envelope in all directions. In this tough economy I have persevered and expanded my repertoire to meet the everchanging industry demands and to remain ahead of the competition.
I love the creative process and the challenges it presents. With each new project, I become invigorated to surpass my previous achievements and to reach new heights. Even though I have a full time job, I also work as a freelancer. If you are interested in a collaboration, don't hesitate to contact me.
Back To Top ↑
---
Thank you for your interest in my work, feel free to contact me.
I am greatful to be busy with freelance work. Please note that no pro bono or "work for equity" projects can be considered at this time
Back To Top ↑